AlphaESS BlackBee 1000 PORTABLE POWER STATION
CAPABLE PORTABLE ULTRAPOWERFUL
If you're looking for a reliable way to power your campsite or off-grid home over the winter, AlphaESS AP1000 has you covered. Fully solar-capable, BlackBee 1000 is equipped with a massive battery, up to 12 outputs including wireless charging, and an absolute pure sine wave inverter to provide you timely, safe, on-the-go power wherever your adventures may take you.





Handle everything with full poweR










*The duration of specific equipment usage may vary in the wattage of the devices.
Built-in LED Flashlights. Always be prepared for unexpected situations with 3 adjustable brightness and SOS mode.


PLENTY OF POWERFUL ENERGY TO RUN MULTIPLE DEVICES
Run up to 12 devices simultaneously which is perfect for camping off-grid trips. It's possible to charge or run your smartphone, laptop, drone, mini-fridge, CPAP, etc. all together efficiently!


Up to 10W of dual wireless outputs. Once in contact, a consistent and efficient charge begins.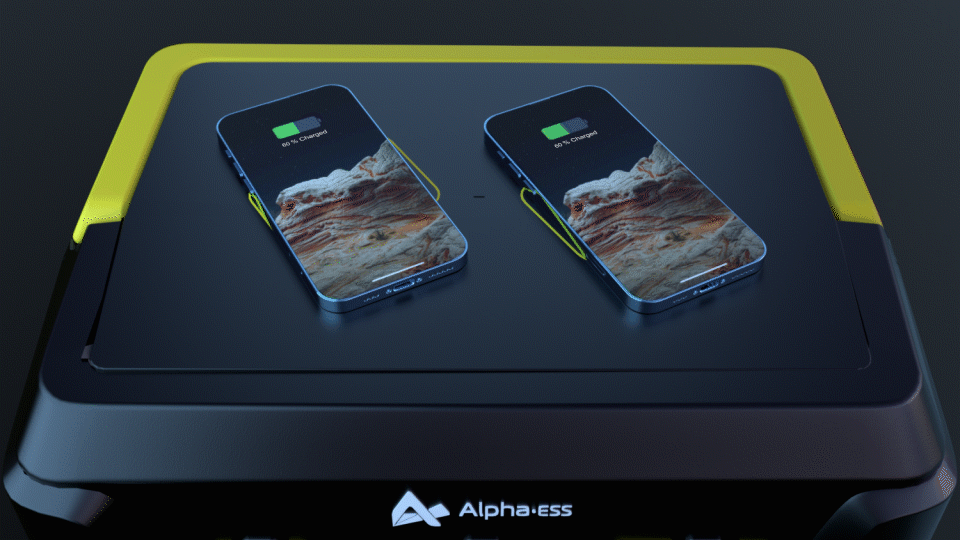 FULLY REHARGED EVEN FASTER
With the 100W PD USB-C input&output, the AP1000 power station can be recharged or can charge other devices in a more efficient way!

Just like the AC power coming out of any wall outlet. Charge your laptop, phone, and other delicate devices without damage.

Four easy ways of Recharge



2 Solar 100W Solar Panels



AlphaESS BlackBee 1000 is dependable no matter where you go or what comes your way






SEe it in augmented-reality.
By tapping the AR VIEW button, you can pan it, zoom it, place it on a surface via camera on your devices to visualize the power station anywhere, right from your phone.



AlphaESS BlackBee 1000 Portable Power Station
13.5*10*10.5 inch (34.3 x 25.4 x 26.7 cm)
Approximately 25 lbs (11.35kg)
AC adapter (100-240V / 60Hz: 180W (MAX))
FCC, CE, RoHS, UN38.3, MSDS
AC adapter with power cable *1
Car charger cable (12V) *1
Single Cell Equivalent Capacity
Battery Management System

≥1000 cycles to 80% with full charge/ discharge
Up to 6 months after full charge; Re-charge every 3 months
Input undervoltage protection,
Output over-voltage protection,
Short circuit protection,
Overtemperature protection
1000W Continuous,2000W Peak Surge
AC Adapter:7-8 Hrs(180W Max)
Two Solar100W Solar Panels:6-7 Hrs(12-24V/200W Max)
12V Car Adapter:10-12 Hrs
USB-C fast charge:10-12 Hrs
*The duration of specific equipment usage may vary in the watts of the devices.
110VAC, 60Hz, 1000W (2000W Surge) Pure Sine Wave
PD (100W Max)
(5V/3A;9V/3A; 12V/3A; 15V/3A;20V/5A)
over-temperature protection
DC Charging Port/DC Input
12V-24V, 180W MAX,
Car Charger
Solar Panel
5700-6700K (Cool Daylight)
Tri-mode light.
Emergency Flash Mode
Level 1: 200 ± 100 LUX
Level 2: 800 ± 150 LUX
Level 3: 1400 ± 200LUX
Frequently Asked Questions
If you haven't found the answer you need,
email us at service.pps@alpha-ess.com!
Q1: What devices can AP1000 power?
A: Please note that the total output of AP1000 is 1000W, which means it can power any devices under 1000W.
Q2: Can the AP1000 be recharged while using?
A: Yes, AP1000 supports pass-through charging.
Q3: Can the AP1000 be used as UPS?
A: No, the AP1000 can't be used as UPS, you need to press the power button to turn on the AC/USB /DC output, so it can't be turned on and off automatically.
Q4: How to know the working time for my device?
A: Working time =1036Wh* 0.9 / operating power of your device.
Q5: Does the AP1000 include a built-in MPPT controller?
A: All AlphaESS power stations have a built-in MPPT controller.
Q6: How do I know the AP1000 is recharged?
A: Check if the LCD Battery Display shows the input watts.
Q7: Can I keep this charged up by keeping it plugged in all the time in case of a power outage?
A: Yes, you can keep the battery plugged in to charge.
Q8: Can I use it indoors?
A: Yes, the AP1000 is safe to use indoors.
Q9: Why does it take so long to recharge the power station from 99% to 100%?
A: When the power station is charged at low power, the charging power is the largest. With the increase of the power, the internal battery pack voltage of the energy storage gradually increases to the charging limit voltage and then enters the trickle charging stage with a lower charging rate, which can protect the battery from high current impact to damage the internal structure so that the charging speed will slow down.
Q10: Are the output ports regulated, and if so, which ones are regulated?
A: All output ports of AlphaESS power stations are regulated. The voltage won't change when the battery power decreases.
Q11: Can the battery inside be replaceable?
A: No, the batteries inside of AlphaESS power station are not replaceable.